Stockfiller is the independent purchasing platform where the food industry meets. A digital trading place where grocery stores and restaurants meet and order goods from hundreds of external suppliers at the same time. Stockfiller increases sales and saves time for both buyers and sellers and can be used in your phone, tablet or computer with connected suppliers and stores throughout Sweden.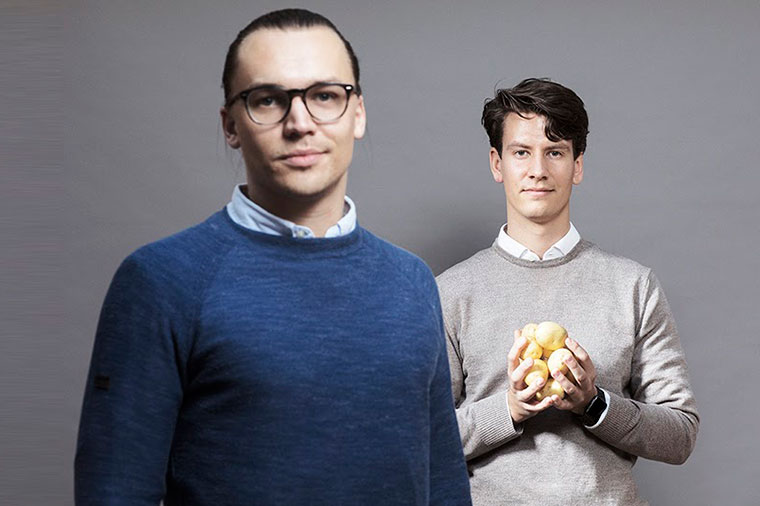 We love food and digitalisation – Think what a privilege to work with both! We here at Stockfiller digitize the industry that affects us all the most – food! With our world-leading tools, we ensure that suppliers and buyers, especially in the grocery trade and Horeca, handle their purchases and sales better than ever so that everyone can focus on their core business and not waste time on everything around. Welcome to a better food world for everyone! "
Jesper Jannesson & Christopher Jonsson

Founders of Stockfiller
Working at Stockfiller
Stockfiller is the place for those who want to be challenged in a fast-paced environment where you often find yourself in situations you have never encountered before, which require creative thinking and a great drive.
At Stockfiller, you are greeted by a lively office with high ceilings, a unique commitment from the employees and cutting-edge expertise in many categories. In addition to a strong drive during working hours, you will find yourself at Stockfiller in a lively environment even outside working hours, where ping pong tournaments, game nights or dinners take place more often than not.
With fun events, kick offs and trips to places like Åre in the luggage, Stockfiller looks into a future all the more filled with adventures, challenges and a focus on combining benefit with pleasure.
Safe and inclusive environment
We believe that a safe and inclusive environment built on trust is absolutely crucial for one's own and the company's success
Influence
We believe that you work best when you feel included and have an influence, both on your role and on the company as a whole
Humility and respect for each other
We believe in an environment where you are humble before your and others' work tasks, where you help each other and are not afraid of change
Fun at Work
We are convinced that it is important to have fun at work and with your colleagues and welcome all initiatives, both during and after working hours
Get in the heat! Here we have high ceilings, caring colleagues and a forward-thinking spirit that will inspire you. We take the industry by storm and would like you to contribute with your own healthy fan. Join us on an educational and fun journey in a fast-growing tech company!
Quick
If you choose to work at Stockfiller, you can say goodbye to boring and slow processes, here we work agile and are used to making quick decisions.
Innovative thinking
Do you have a creative brain? At Stockfiller, we appreciate all the new thoughts and ideas that can help improve the product.
Cruel technique
Do you like technology? Then you will love our proprietary system. Created with a focus on flexibility and long-lasting durability!
Good talk
Group dynamics are crucial. At Stockfiller, we work in a tight team where everyone contributes to the company's development!